Note: Custom headers and custom footers are different from a template letterheads.
Note: Headers/footers will only show when a document is output to PDF or .docx.
Introduction
To begin implementing a custom header and/or footer within a template, have a template open in Draft. In the example shown below we have a template with Page title and Letterhead turned off and document pre-populated.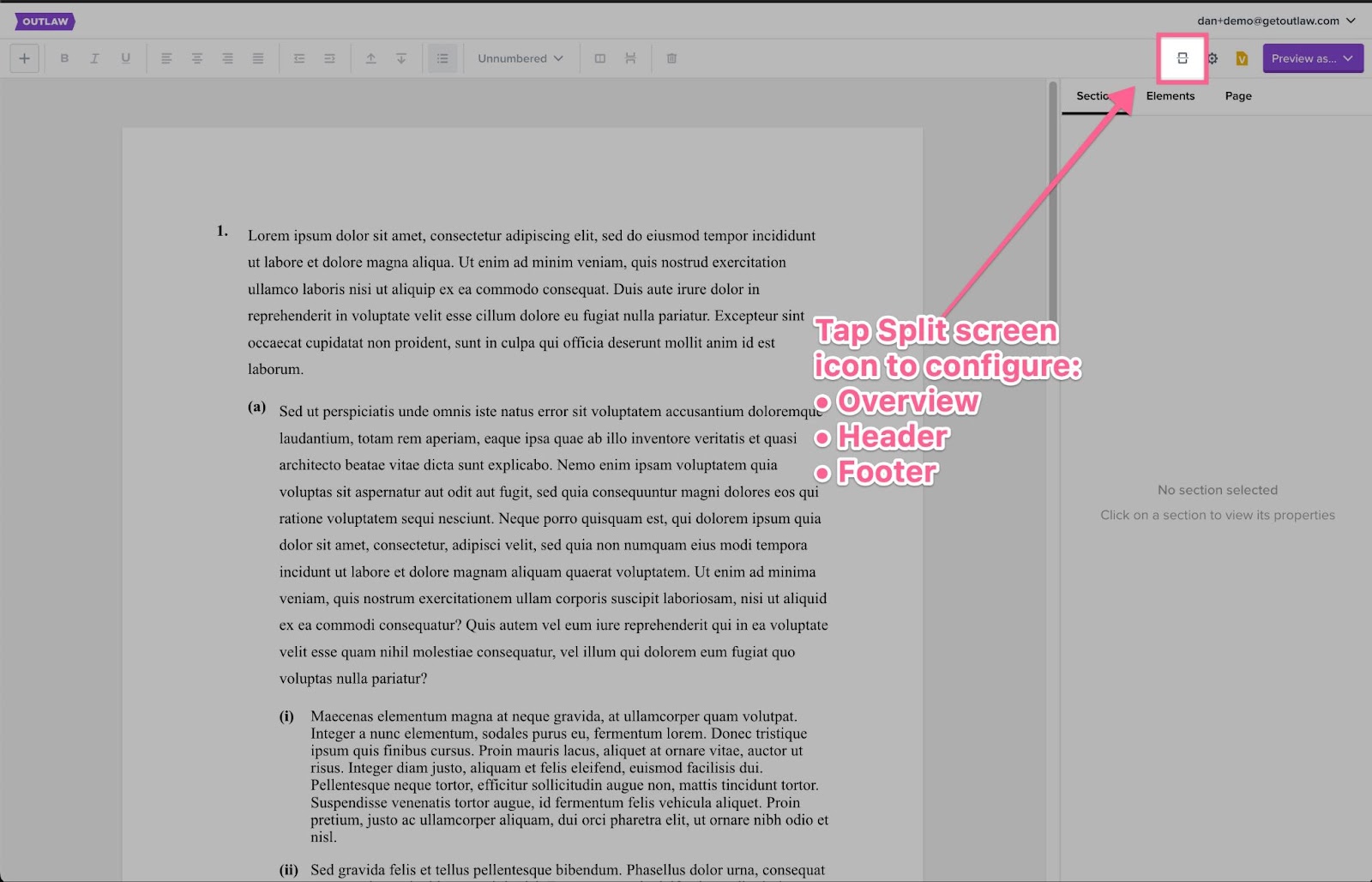 Caption: Toggle split-screen to manage overview, header and footer.
Create a Header or a Footer
In the split screen, tap on the tab for Header or Footer. If no headers/footers are present, tap on Start now to create your first header or footer.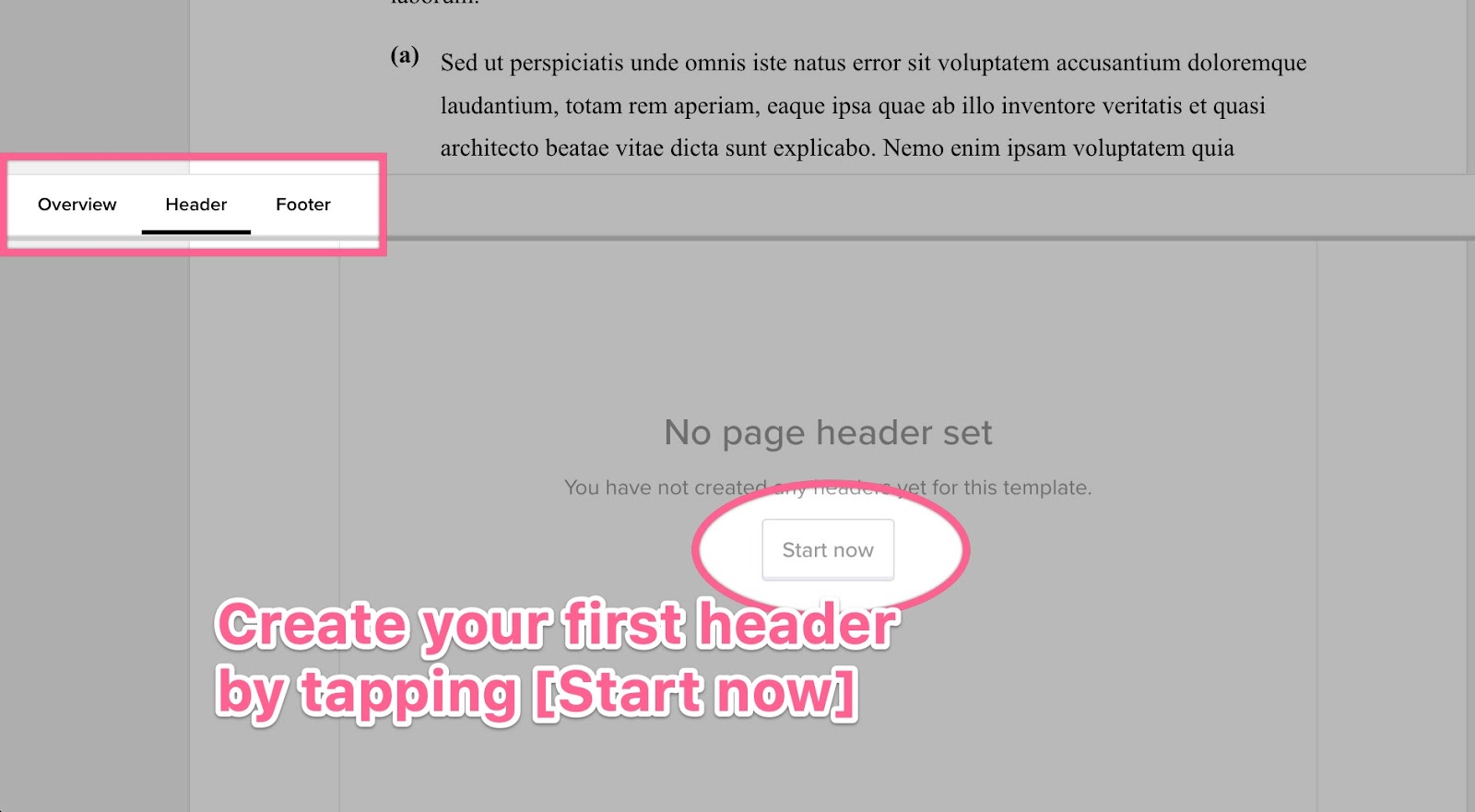 Caption: No headers or footers are created on template
Note: If there are no headers or footers already created, the first will be a one-column. To use a 2-column, select 2-column from the [+] icon along the top bar (and delete existing). By default, newly created headers and footers do not show until configured explicitly in the sidebar.
Header/Footer Section Properties
| | |
| --- | --- |
| Print header on | Description |
| From document start | Prints from first page |
| Do not print | (Default option) |
| First page only | Prints only the first page |
| From (section label) | Starts printing from specified page break, appendix, etc. |
| | |
| --- | --- |
| Conditions | Description |
| No conditional logic | Show (default) |
| Has conditional logic | |
| | |
| --- | --- |
| Types of Headers/Footers | Description |
| 1-column | Can be left, center and right-aligned, use for simple headers/footers |
| 2-column | Allows for 2-columns with different alignments for both columns. A typical layout includes text on column 1 (left-aligned) and page number in column 2 (right aligned) |
Editing Contents
Headers and footers can be formatted the same way a paragraph section can. See supported functionality section below to learn which elements are supported.
Supported Functionality
Supported
Unsupported
Text, Date, Number, Currency, Percentage, US State, List, Calculated variable, Connected variable, Secrets,

Page count

Table variables

Images (left-aligned logos only)

Footnotes

Exporting to .pdf, .vine
Exporting to .docx
Styling Header and Footer Sections
For visual consistency across templates, header and footer sections can be configured using the "Header Text" and "Footer Text" within Themes.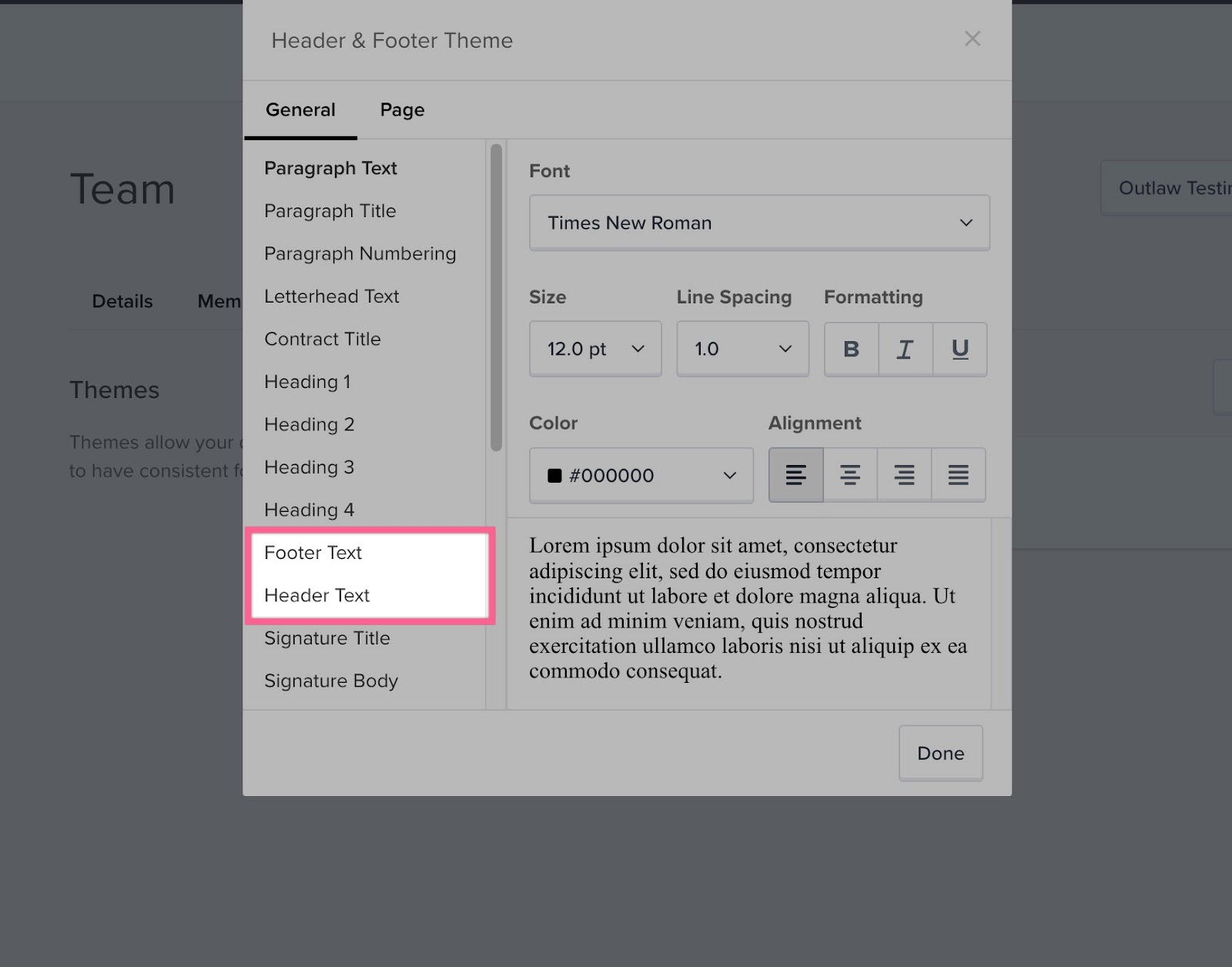 Caption: Header & footer properties within Themes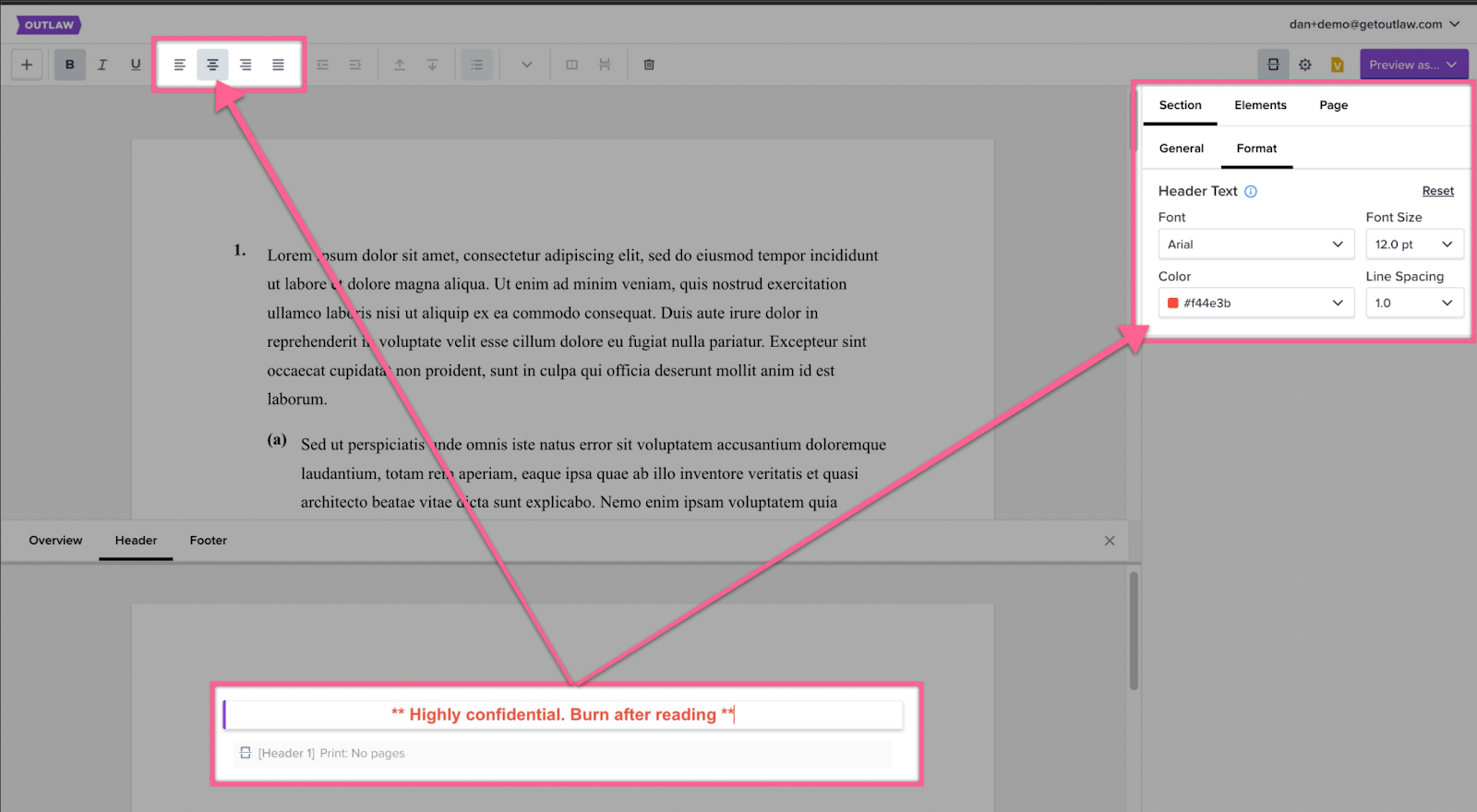 Caption: Format header & footer is the same as regular paragraph sections
Page Count Variable Type
Headers and Footers support the special variable type of Page count. To use, simply tap the "[" button and select "Page count."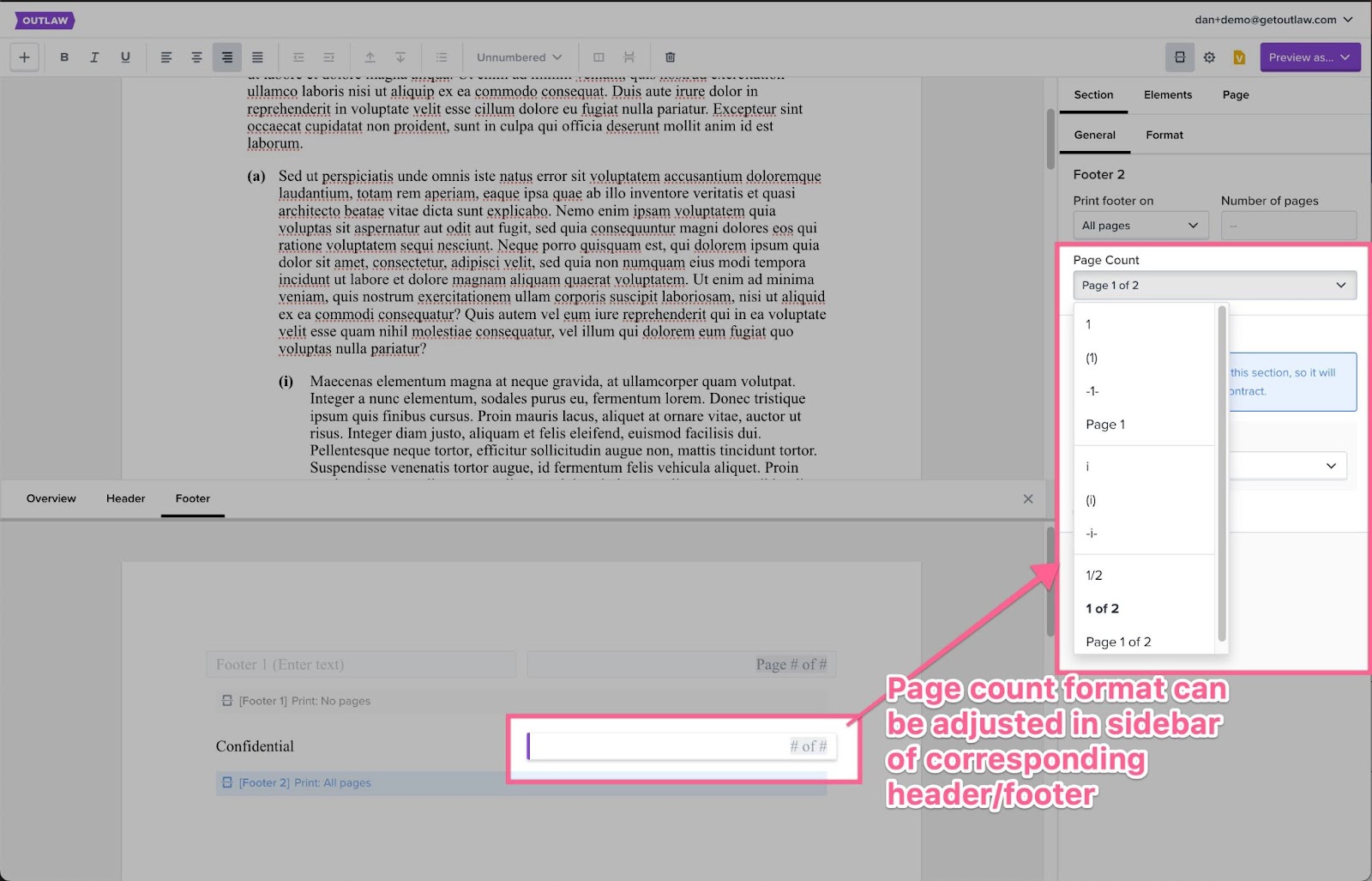 Adding Multiple Headers/Footers to a Document
If a document requires multiple headers (or multiple footers) on separate pages, this can be achieved by creating multiple headers (or multiple footers) and configuring the "From (section label)" property.
Targeting/Hierarchy
In the following example, we can see that the Header 1 (in red) will print on the first (1) page, and Header 2 will output to All pages. Because Header 1 targets pages specifically, it will override Header 2's setting on page 1.
| | |
| --- | --- |
| Hierarchy | Overrides |
| No pages | N/A |
| First page only | "No pages," "From document start" |
| From (section label) | "No pages," "From document start," "From (section label)," of previous sections |

The result is the following (Tap "Preview as…" > PDF) or generate a document to view.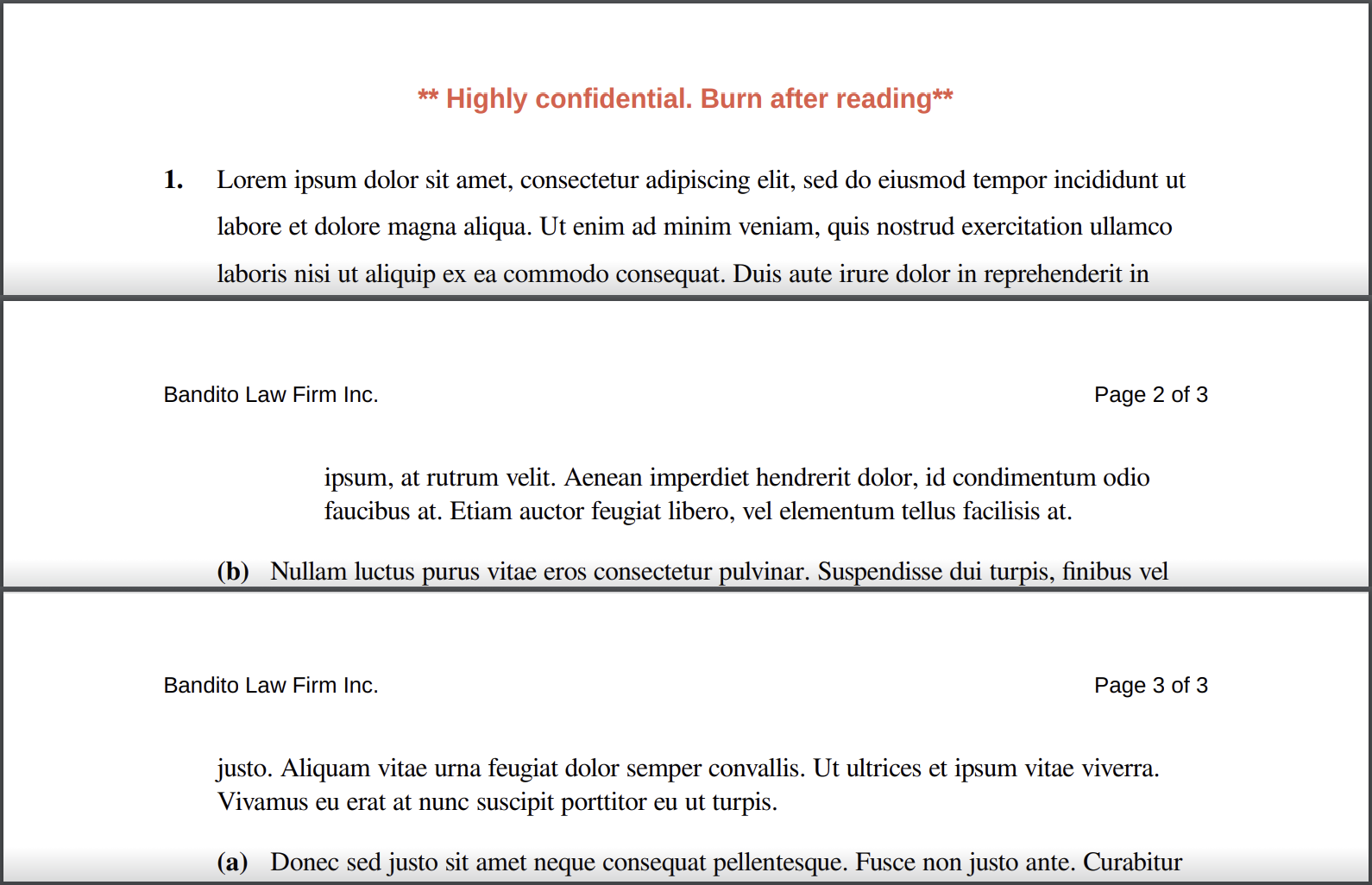 Applying Conditionality to Headers/Footers
Headers and footers can have conditional logic applied to them. Note that conditional logic must have a value filled to properly render a result in PDF.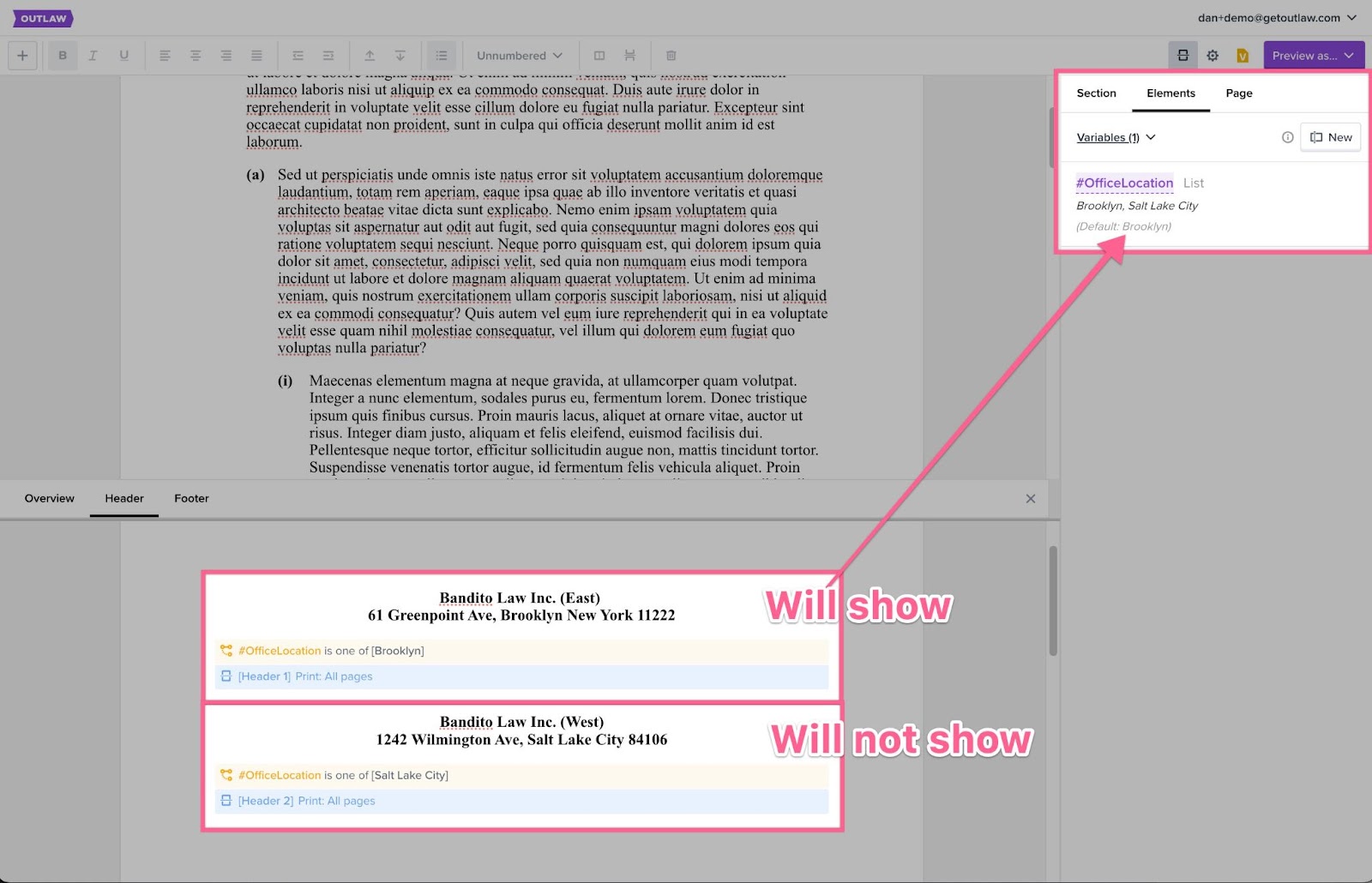 Caption: Only one of these headers will show based on variable value. (Both can not be true.)